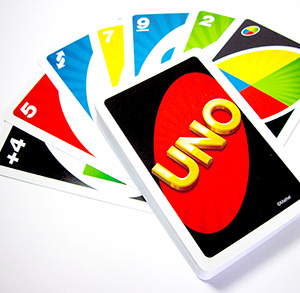 I had an opportunity to go on a trip with two friends. One was a teacher like me but he taught in a different discipline [he was a scientist]. The other friend was a pastor. We arrived at our destination which was a golf resort and we settled in. We played eighteen holes of golf after we arrived and that, with the travel of the day, made us pretty tired. Instead of going out, we decided to stay in the condo for the night and we broke out the Uno cards. My pastor friend and I started shuffling and we called to our third friend, let's play Uno! He said "I don't play cards; they are of the devil."
That stopped us in our tracks.
What was going on; why was Uno of the devil? In my previous post, I commented on John Bevere's concern that "the world" would seduce us into sinning. The whole post was dedicated to trying to explain that life has many temptations that can draw us away from a strong relationship with God. A little lowered standard here and another lowered standard there and before too long, you may find yourself doing something in your heart you know is wrong, dead wrong.
Maybe playing Uno…
But seriously folks, let's not judge my scientist friend. He felt that card playing could hurt his relationship with God but some of you may think that Uno is not that bad. Maybe that standard is a bit too high.
All of this leads into a discussion of legalism. Legalism is a word that is tossed around in Christian circles so much but what does it mean? A dictionary definition means a "strict adherence to law or prescription, especially to the letter rather than to the spirit of the law." An added explanation is "judging of conduct in terms of adherence to precise laws."
People who practice legalism have long lists of "don'ts." Some examples are don't dance, don't watch movies, don't read certain books, don't wear jewelry, have stylish hair, or wear makeup. Women are not supposed to wear pants. Piercings and tattoos are strictly prohibited.
Let's be honest, if a person is totally convinced that any of these "don'ts" get in the way of their relationship with God, they should not do them. It is a personal choice and no one can declare them wrong.
Here is the problem. Often people who practice legalism have problems with the outward appearances of others. They are very harsh in their judgement. Because they are strict in their adherence, they can fall into the practice of spiritual superiority. Many times legalists are so focused on the outward signs of "good" behavior that they don't really enjoy life. They are also often under constant pressure to serve God through church administration, volunteering, or giving resources to the poor. There is a definite effort to earn the favor of God.
Now I know that this may sound confusing but legalists can be rooted "in the world" as much as a worldly sinner is because they don't want to be dependent on God for their salvation. They have taken that firmly in their own hands.
Legalists, according to Bevere, "don't possess true joy. They live in a very small world because those who don't think like they do are filtered out." They don't understand Paul's thoughts in Colossians 2: "Why do you keep on following the rules of the world such as 'Don't handle! Don't taste, Don't touch?' Such rules are mere human teachings about things that deteriorate as we use them…they provide no help in conquering a person's evil desires."
What is the answer to all of this?
The focus should not be on outward manifestations of spirituality, the effort of the devout Christian should be on the treasure of his or her heart. Bevere says "this is the battlefield; this is where the web is spun. This is where friendship or adultery with the world begins and is eventually consummated. And it can happen as easily with a person who rarely attends church as with one who never misses a service and is heavily involved in ministry" [101].
Yes, you can live a life with strict adherence to rules but don't be confused: God is the one who determines what is good or bad, not man. Maybe playing Uno is a horrible sin but maybe not. Not playing Uno does not help clean up a person's heart and the heart is the target of "the world."
It would be best to focus less on man's rules and more on God's and "guard your heart above all else, for it determines the course of your life" [Proverbs 4:24].