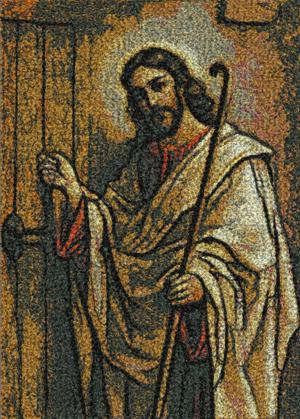 In the previous post "The Hard Stuff," it sounds like I am having a pity party. God wants me to put my "self" aside and put Him first. God wants me to confess my sins. God wants me to repent. God wants me to submit to His will.
I wrote that I struggle with all this, confessing my selfishness and my controlling nature.
That's the truth…
But what does Paul mean when he writes in Romans 12:1 "I urge you therefore, brethren, by the mercies of God, to present your bodies as a living and holy sacrifice, acceptable to God." Billy Graham* comments on this verse: "This includes every area of our lives. It includes our abilities, our gifts, our possessions, and our families—our minds, wills and emotions. Nothing is excluded. We can hold nothing back. In principle, He must control and dominate us in the whole and the part" [143].
And I have been complaining that I struggle with confession, repentance and submission.
Now I find that God wants all of me and all that I have.
Graham states "our submission and yielding—must be total. It is a surrender without any conditions attached" [143].
From the Graham quote above, you may have not focused on the words "in principle." On the next page he uses it again as he describes the commitment of the born again believer: "Our intention should be a complete and final act of submission 'in principle'…" [144].
What does the phrase "in principle" mean?
Thank goodness God does not expect me to be perfect. Even though He expects total surrender, He knows that I will only be able to surrender "in principle." At my age, I have had a relationship with Jesus Christ for twenty years. I was born again in 1998 at a time when I needed Jesus so much, a time of crisis in my life. Over the past twenty years, He has been working with me to grow me. The Holy Spirit has shown me areas of my life that need to be surrendered beyond the areas that I had to surrender in 1998. Graham says "as we place ourselves at God's disposal, He leads us into new areas of commitment….we must be open to everything He wants to do in and through our lives" [144].
Here are key areas of fear in this process. One is that I will never be able to satisfy God. I will never be able to give Him enough confession, repentance and submission. The other is the idea that the life of the "submitted" Christian sounds like the life of a slave.
Nothing could be further from the truth.
God will never ask you to do more than you can do. He knows you; all your weakness and all your strengths. He knows what you are capable of. "The Holy Spirit may test us many times to see if we really mean business. He may call on us to surrender something in principle that He really does not want us to surrender in fact, but which He wants us to be willing to surrender" [144]. We are not a perfect people capable of living perfect lives, so we should not get worked up over perfect submission.
Secondly, the Christian is the freest person in the world since he knows the spiritual freedom that Christ brings. When we give our lives to Christ, we are no longer living for our old slave master sin. I know so well what that life is like because I am to this day, a sinner. I fall to sin and then I have guilt and guilt never feels good. Depending on how hard I fall and how far, sin can take over my life. My choices can make my life miserable. I truly become a slave to sin.
Not so if we give our lives to Christ. When we express to Him that we are ready and eager to do His will, He will take us up on our offer. He will begin the process of directing us away from sin toward a life free from sin, a life that is truly free. The Christian is the freest person in the world because he knows the spiritual freedom that Christ brings.
Graham finishes the part of his book on how to be filled with the Spirit with the familiar quote from Revelation 3:19, such a pleasant image of Jesus coming to the door and knocking. That image is meant to convey what Jesus can do for your life. It is simple but effective: "See I stand knocking at the door. If anyone listens to My voice and opens the door, I will go into his house and dine with him, and he with Me."
One of the boldest things we can do in this life is to utter the simple phrase…
Come in Jesus. Welcome to my home…
From his book The Holy Spirit